A delicious Taco Salad that will satisfy the most discriminating taste buds. Packed with a lot of flavour and a lot of heat, you will enjoy this tasty Taco Salad.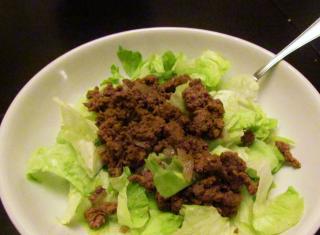 Ingredients:
2 lbs. ground meat (extra lean beef, chicken, turkey or pork)
1 green pepper seeded and finely chopped
2 large cloves of garlic peeled and finely chopped
1 Tbsp. chili powder
1 tsp. garlic powder
½ tsp. onion powder
1 tsp. oregano
½ tsp. chili flakes
½ tsp. cayenne pepper
¼ tsp. paprika
1 ½ tsp. cumin
1 tsp. coarse sea salt
1 tsp. black pepper
2 Tbsp. IP potato purée (dry mix)
Topping
Fresh chopped red onion (about 2 Tbsp.)
Fresh chopped cilantro (about 2 Tbsp.)
Directions:
In a nonstick frying pan, cook green pepper and garlic cloves in about ¼ cup of water until soft and water boils offs, add meat and cook, stirring with a wooden spoon until you don't see any more pink in the meat. Drain grease from meat.
Combine dry ingredients in a bowl and mix well. Sprinkle evenly over the meat mixture, slowly add 1 to 2 cups of cold water and mix well, bring to a boil then cover and reduce heat and simmer for 20 minutes until sauce thickens, stirring occasionally. (Hint: if you like it very saucy use 2 cups of water, if you like your meat sauce a little less runny, use 1 cup). Serve on a nice big bed of crispy romaine lettuce, top with some chopped red onion and fresh cilantro (optional). Serve with a side cucumber slices and enjoy!
Makes 4 servings
Note: this recipe is VERY HOT; if you do not like heat, reduce quantities of chili powder and chili flakes.
This recipe works well with all ground meat; however, the heat factor is more intense with ground chicken or turkey. If you do not want to make four servings, reduce the meat quantity to 1 lb. and cut all the dry ingredients in half. 1 lb. makes 2 servings.