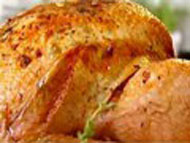 Ingredients:
4 T poultry seasoning
1 T sage
1 T cinnamon
1 t nutmeg
1/4 t cloves
1 t garlic powder
1 t onion salt or onion flakes
Pinch of Sea salt and pepper
Directions:
Mix together - rub on turkey before roasting, I like to add a little chili to it for a zip. Instead of garlic powder sometimes I will rub turkey with fresh chopped garlic and a little oil before rubbing spices on. Cook as per turkey instructions.