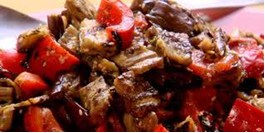 Ingredients:
2- Large Eggplants
2-3 Red Pepper
1-2 Fresh lemons (to taste)
1/8-1/4 Tsp Cayenne Pepper
1 Tsp Grape Seed Oil
½ Bunch of fresh mint
¼ C. Apple Cider or White Vinegar
½ Tsp Sea salt
¼ Tsp. pepper
Oil spray
Directions:
Cut eggplants & peppers in half lengthwise, spray with oil, top with salt and pepper, bake at 350* for 30-45 minutes (or until tender), cool on rack. Cut eggplant and tomatoes into bite size pieces add rest of ingredients, combine well, this can be served warm or cold.