Per serving: Calories: 89, Fat: 3 grams, Protein: 5 gram, Carbohydrates: 6 grams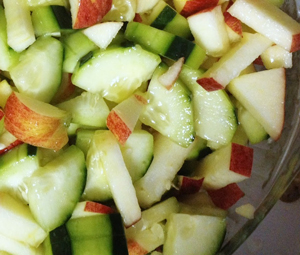 Ingredients:
Dressing:
1 teaspoon Dijon mustard
1/2 teaspoon Splenda or Stevia
1 Tablespoon lemon juice
2 Tablespoons rice vinegar
1 teaspoon dried mint
1 teaspoon dried thyme
3 Tablespoons olive oil
salt and white pepper to taste
Salad:
4 cups red leaf lettuce, washed and torn up
1/2 red onion, sliced very thin
10 radishes, sliced very thin
1 cucumber, diced
2 stalks celery, sliced
Directions:
In a small bowl, mix dressing ingredients together. In a salad bowl, combine lettuce, onion, radishes, cucumber and celery. Add dressing to salad and toss to coat all ingredients. Serve immediately.
If you have fresh herbs handy, replace dried mint and thyme with 1 Tablespoon each fresh mint and thyme. You could also garnish your salad with alfalfa sprouts or other kinds of sprouts or shoots (snow peas, mustard or radish shoots, among others), which you will find in the fresh vegetables section of your grocery store. These sprouts are not only delicious; they are also very healthy! Serve this salad with a barbequed beef flank steak or Ideal Protein leek soup.