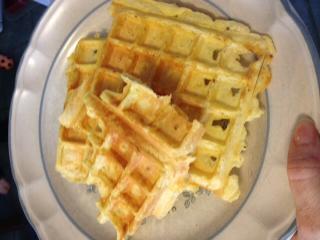 Ingredients:
1 pkg Wildberry yougurt (or Banana pudding package)
2 Tbsp egg whites
3 Tbsp water
1/4 Tsp baking powder
pinch of salt
Walden Farms Pancake Syrup
Directions:
mix egg whites, water, baking powder salt together.
add wildberry yogurt or banana pudding package and stir until well mixed.
Place on a heated lightly oiled waffle iron.
let it cook for about 4 minutes.
Serve with Walden Farms syrup of your choice.