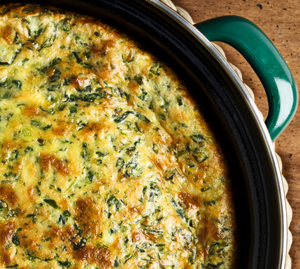 Ingredients:
4 egg whites
2 cups of your favourite vegetable(s) shredded
1 packet of Ideal Protein Maple Oatmeal
Olive oil Seasoning, to taste
Directions:
Preheat oven to 350 degrees Fahrenheit. Place Maple Oatmeal in blender and process until
finely ground. Place shredded veggies in medium to large bowl. Prepare soufflé dish by lightly
spraying with olive oil, then dust with ground oatmeal, shaking excess oatmeal into veggies.
Combine oatmeal, seasonings, and veggies, stirring until completely coated (this is especially
important if working with high-moisture veggies such as zucchini.) Beat egg whites until stiff.
Fold half of beaten egg whites into veggies, mix thoroughly to get eggs to blend with mixture,
and then gently fold in the remaining whites. Pour into prepared dish and bake for 20 minutes
or until firm.