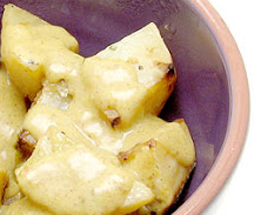 Ingredients:
3 medium turnips
2 tsp olive oil
Sea Salt and Pepper to taste
1-2 cups Fat free, low sodium chicken broth
2 tbsp mustard like coarse brown or your preference
1 tsp dried parsley or 1 tbsp fresh
Directions:
Peel the turnips and cut into cubes. Heat olive oil in a skillet. Add the turnips and
season with salt and pepper. Cook on medium-high heat until turnips begin to brown
nicely. Add broth and simmer until broth has reduced to a small thickened pool and
the turnips are a golden brown and can be pierced with a fork. Reduce heat to low
and add in the mustard and heat through. Keep warm until ready to serve. Sprinkle on parsley
just before serving .This should make 2 servings.