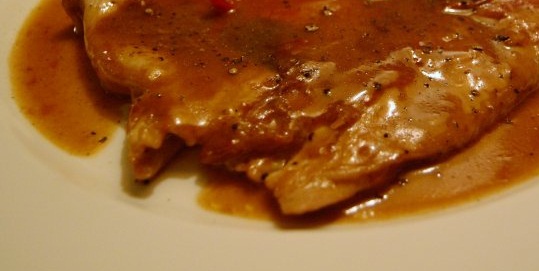 Ingredients:
3 Tbsp apple cider vinegar
1 large clove garlic, finely chopped
1/4 tsp dried hot red-pepper flakes
3/4 tsp salt
4 Tbsp extra-virgin olive oil, divided
1/2 cup sliced almonds, roasted
1/3 cup chopped fresh cilantro
1/2 tsp ground coriander
1/4 tsp cinnamon
4 (1/4-inch/0.5 cm thick) turkey breast escalope's (about 1 1/4 pound/615 grams total)
Directions:
Whisk together vinegar, garlic, red-pepper flakes, and 1/4 teaspoon salt until salt is dissolved.
Add 3 Tablespoons oil in a slow stream, whisking until combined well, then whisk in almonds
and cilantro. Set the grill at high heat. Whisk together coriander, cinnamon, remaining 1
Tablespoon oil, and remaining 1/2 teaspoon salt in a shallow bowl. Turn escalope's to coat in
spice mixture. Grill turkey until just cooked through, about 3 minutes. Transfer to a platter.
Spoon almond sauce over turkey.