Preparation: 15 minutes
Marinating Time: 24 hours
Cooking: 45 to 60 minutes
Servings: 6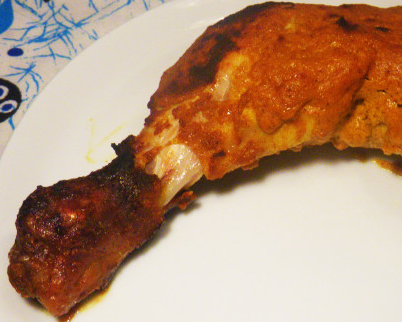 Ingredients:
16 oz. plain yogurt 0% fat
1 Tablespoon grated ginger root
2 cloves garlic, minced
2 teapoons paprika
1 1/2 teaspoons ground cinnamon
1 teaspoon ground cumin
1 teaspoon ground coriander
1/2 teaspoon salt
1/2 teaspoon pepper
1/4 teaspoon ground cloves
2 1/2 pounds bone-in chicken pieces (breasts, thighs, or drumsticks)
1 medium cucumber, sliced
Directions:
For the marinade: in a medium bowl, whisk together all marinade ingredients. Rinse chicken and
pat dry. Place chicken pieces in a Ziploc bag set into a deep bowl. Pour marinade over chicken
and close bag. Marinate in the refrigerator overnight, turning bag occasionally to distribute
marinade. Remove chicken from bag, reserving marinade. Set barbeque to medium-low heat.
Place chicken pieces, bone side down, in center of cooking grate. Grill 45 to 60 minutes or until
chicken is tender and juices run clear, brushing with reserved marinade during the last 15
minutes of grilling time. Serve with sliced cucumber.
Tandoori is a mixture of spices commonly used in Indian cuisine. It is a fine red-brown powder.
It has a very rich and subtle taste, which gets enhanced when cooked. It is not very spicy(less
than chilli powder or curry for instance) and very aromatic. Ingredients used to make tandoori
may vary in number and proportion but it is normally made with the following spices: mild
pepper, paprika, garlic, chilli pepper, thyme, cilantro, salt, cumin, black pepper, celery, caraway,
rosemary, clove, bay leaves, and cinnamon.