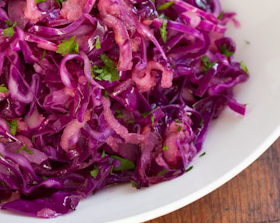 Ingredients:
1 bag shredded cabbage
1/3 cup minced cilantro
1/3 cup diced red onion
Dressing:
4 cloves garlic, minced
1 tsp. Dijon mustard
2-3 packets Splenda
1/2 tsp. sea salt
1/2 tsp. black pepper
1 small serrano pepper, seeded and finely minced (optional)
Directions:
Combine cabbage, cilantro, and onion in a bowl. whisk dressing ingredients together and pour
over salad.