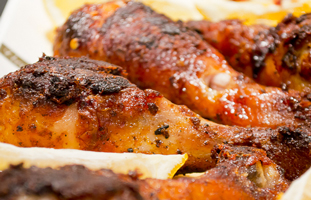 Ingredients:
2 tablespoons grapeseed oil
2 teaspoons paprika
1 teaspoon dried thyme
1 teaspoon chili powder
1/2 teaspoon dried cumin
1/2 teaspoon garlic powder
1/2 teaspoon sea salt
1/2 teaspoon pepper
1/4 teaspoon ground nutmeg
8-10 skinless chicken legs scored, rinsed and patted dry)
Directions:
In a small bowl, mix oil and spices. Put chicken in ziplock bag pour marinade over meat, close bag rub chicken with spice mixture, refrigerate for 30 minutes or more. Arrange on a baking sheet..Heat oven to 350F. Bake chicken 40 to 45 minutes or until cooked through. Variation- You could add some cherry tomatoes or other selected veggies before baking then garnish with fresh parsley, phase permitting.