Preparation: 20 minutes
Marinating Time: 2 hours
Cooking: 10 minutes
Servings: 6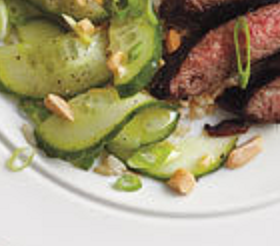 Ingredients:
Marinade:
1/2 cup extra virgin olive oil
1/4 cup rice vinegar
4 cloves garlic, crushed with the skin
1 teaspoon cumin
1/2 bunch of thyme
2 teaspoons crushed black pepper
2 peppers, finely chopped
2 bay leaves
2 x 1 pound of beef flank steak
salt and pepper
Cucumber Salad:
2 cucumbers cut in big chunks 1/2 inch x 1/2 inch
10 mint leaves, chopped
1/4 onion, finely cut
1/4 cup olive oil
juice of 1 lemon
salt and pepper
Directions:
In a large Ziploc bag, mix all marinade ingredients and set aside. Make shallow incisions in the
steak so the marinade penetrates more. Let marinate in the refrigerator for at least 2 hours. In a
large salad bowl, mix all cucumber salad ingredients, 30 minutes before serving. Preheat
barbeque at high temperature. Put steak on hot grill to seer. Season to taste. Grill for about 5
minutes on each side. Serve steak rare or pinkish. Don't overcook flank steak-it would get a bit
stiff.
Per serving:
356 calories
14 grams fat
22 grams protein
5 grams carbohydrates