This makes 4-6 cups of .sauce.
Freezes very well.
Best served over mashed or riced cauliflower.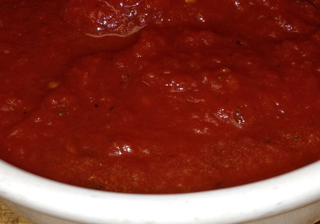 Ingredients:
1 pound lean ground turkey or extra lean ground beef
8 large tomatoes
1 medium onion, chopped
1 small green pepper, chopped
Fresh button mushrooms (if you like)
2 Tbsp minced garlic or 2 cloves, crushed and chopped Or Garlic Powder(start with 1 tsp and
add what you like for taste)
2 tbsp Italian seasoning
¼ tsp Red pepper flakes
½ cup water
Directions:
Brown turkey or ground beef, add garlic powder while cooking meat for more flavorful sauce,
drain off any fat, add all vegetables and water, except tomatoes. Cook on low with lid until
vegetables are cooked through.
In a blender or food processor, puree 6 of the tomatoes, add the Italian seasoning, garlic, red
pepper flakes, and give it another little whirl. You need to boil this for about 20 minutes and
skim off the water and froth. Pour into cooked ground turkey or ground beef mixture, turn on
low heat. Chop remaining 2 tomatoes however small or large you like your chunks in sauce,
add to mixture and simmer on low for 20-30 minutes.