for phase 4 only! delicious homemade pizza crust!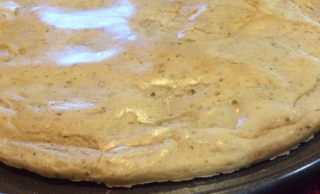 Ingredients:
1 cup soy flour
½ cup neutral-tasting protein powder (I used whey)
1 teaspoon garlic powder, 1½ teaspoon oregano or other Italian seasoning
pinch black pepper and/or cayenne or other hot pepper
½ teaspoon salt
1-2 teaspoons worth of sugar substitute
1 teaspoon xanthium gum
2 eggs
3 Tablespoons oil (olive or other)
¼ cup water (approximately)
Directions:
Heat oven to 375° F. Mix dry ingredients together, and add eggs, oil, and water.
Combine well. The mixture will be sticky, but should hold together. Soy flours differ, so you
may need to add a little more water. Spread dough out on well-greased pan or silicone mat (I
have never tried it on a pizza stone). Wet your hands or spatula so you can spread it out
smoothly. Bake for about 10-14 minutes, or until light brown. Remove from oven and cover
with pizza toppings. Replace in oven and finish baking.