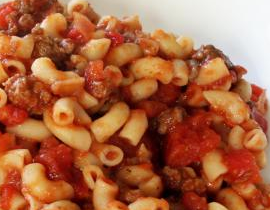 Ingredients:
1 lb. ground beef or turkey
1 onion, medium chopped
1 pepper, green, medium chopped
1 cup of sliced mushrooms
1 tsp. salt
1/4 tsp pepper
1/2 cup Walden Farms Tomato and Basil Sauce
1/2 cup of Walden Farms Alfredo Sauce
28 oz. can of tomatoes, diced, undrained
1 package of skinny dip macaroni or lasagna shirataki noodles
Directions:
Cook beef and onion over medium heat until meat is no longer pink.
Drain, and transfer to slow cooker.
Top with pepper and mushrooms.
Sprinkle with salt and pepper.
Pour Walden Farms tomato and basil sauce and Alfredo Sauce over mushrooms and cook on low for 3 hours.
Add skinny dip noodles of choice and diced tomatoes to crock pot! Make sure to use this bran as they are calorie and carb free!
Variation: You can also add other select vegetables like broccoli, cauliflower, zucchini etc.. with or in place of place of diced tomatoes! Try adding diced tomatoes with chilis to spice things up!