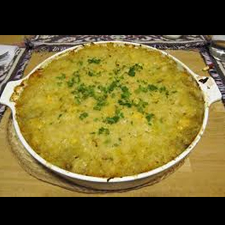 Ingredients:
1 head cauliflower – cooked until soft enough to mash
1 pkg IP soup – your favorite
1 lb lean ground turkey or chicken
3 garlic cloves – minced
1/2 cup of leeks – chopped
1/2 tsp sea salt
1 tsp rosemary
1 small fresh tomato – optional
Directions:
Mix pkg IP soup with 100 ml water only & pour over mashed cauliflower. Blend well & set aside.
Cook turkey/chicken with garlic, leeks, sea salt, rosemary & optional tomatoes until browned. Place mixture in bottom of a baking pan or casserole dish and press down firmly. pread cauliflower mixture on top and press down firmly.
Bake at 350F for 20 minutes.