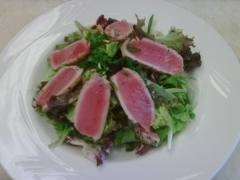 Ingredients:
4 (6 ounces) yellow fin tuna steaks (about 3/4 inch thick)
1 1/2 teaspoons freshly ground black pepper, divided
2 tablespoons olive oil, divided in half
2 tablespoons fresh lemon juice
8 cups arugula leaves
2 cups thinly sliced fennel bulb (about 1 small bulb)
Directions:
Sprinkle tuna steaks with 1 teaspoons black pepper. Heat 1 tablespoon oil in a large nonstick skillet over medium-high heat. Add tuna steaks; cook 2 minutes on each side or until they reach desired degree of doneness
Combine 1/2 teaspoon black pepper, 1 tablespoon oil, and juice in a large bowl; whisk. Add arugula and fennel; toss well. Place about 2 cups salad on each of 4 plates; top each serving with 1 tuna steak.