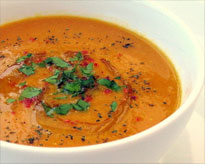 Ingredients:
1 lobster tail, small uncooked
1 lb mussels
1/2 lb jumbo shrimp, uncooked
2 cups water
1 tablespoon oil
1 garlic clove, crushed
1 onion, sliced
1 (14 1/2 ounce) canned tomatoes
1 1/2 tablespoons Soy sauce
1/2 teaspoon Tabasco sauce
2 teaspoons Stevia
1 pinch saffron
3 tablespoons parsley, chopped
Directions:
Cut lobster tail in half lengthwise, leaving shell intact, then cut into 1-inch pieces (still with shell on). Scrub mussels, remove beard. Shell and devein shrimp, leaving tails intact (or seafood of choice). In pan, bring water to a boil, add seafood, cover, simmer 5 minutes, drain, reserve 1 cup of the stock. Heat oil in pan, add garlic and onion cook, stirring until onion is soft (not caramelized). Add reserved stock, undrained crushed tomatoes, sauces, stevia and saffron to pan. Bring to a boil, cover, reduce heat, simmer 5 minutes, add seafood, heat through gently, serve immediately in bowls, sprinkled with parsley.