Preparation Time: 15 minutes Marinating Time: About 4-6 hour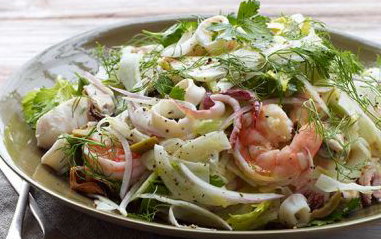 Ingredients:
Salad
1/2 red onion, finely chopped
2 celery stalks, finely chopped
1 sweet green pepper, diced
1 Pollock pack, in chunks
2 big handfuls cooked shrimps
Other cooked or smoked fish that you like, in chunks
Sea salt and pepper, to taste
A pinch of garlic powder
1 Tablespoon dried parsley
1 Tablespoon dried dill
Dressing
1/3 cup olive oil
1 Tablespoon Dijon mustard
2 Tablespoons fresh lemon juice or apple cider vinegar
2 green onions, finely chopped
1/2 celery stalk, finely chopped
salt and pepper, to taste
Directions:
In a large bowl or a salad bowl, mix salad ingredients. In a small bowl, mix all dressing
ingredients. Stir dressing in salad and let marinate in the refrigerator for a few hours so that
the aromas mix well. Serve chilled over a bed of leaf lettuce.