The truth is, the rub in this recipe is so good that the meat doesn't even need a sauce, but if tomatoes are in season, whip up this cooked salsa for a colorful flourish. Fire-roast the vegetables over direct high heat, then cook the meat over direct medium heat.
Serving: Calories: 319, Fat: 14 grams, Protein: 27 grams, Carbohydrates: 13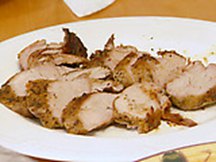 Ingredients:
Sauce
8 ripe, plum tomatoes, stems removed
1 jalapeno, stem removed and seeded
1/2 cup tightly packed fresh basil leaves
1/3 cup roughly chopped French shallots
1/4 cup tightly packed fresh cilantro leaves
1 Tablespoon fresh lime juice
2 teaspoons minced garlic
salt
freshly ground black pepper
Rub
1 teaspoon paprika
1 teaspoon Splenda or Stevia
1 teaspoon salt
1/2 teaspoon chili powder
1/2 teaspoon freshly ground black pepper
1/4 teaspoon ground allspice
1 large or 2 small pork tenderloins, about 1 pound total
extra virgin olive oil
Directions:
Sauce: grill the tomatoes and jalapeno over direct high heat until black and blistered in spots. The tomatoes will take 4 to 6 minutes and the jalapeno will take 2 to 3 minutes. Put the tomatoes and jalapeno in a food processor along with the other sauce ingredients, including salt and pepper to taste, and process until smooth. Transfer the sauce to a medium saucepan and bring to a boil. Reduce to a simmer and allow to cook until the sauce has thickened slightly, 5 to 10 minutes, stirring occasionally.
Rub:
in a small bowl combine the rub ingredients and crush them together with your fingertips. Trim excess fat and silver skin from the tenderloins. Lightly brush or spray the tenderloins with olive oil. Spread the rub all over the tenderloin and press the spices into the surface of the meat. Grill the tenderloins over direct medium heat until the centers are barely pink, 15 t0 20 minutes, turning once halfway through grilling time. Remove it from the grill and cover loosely with foil. Allow to rest for about 5 minutes before slicing. Serve warm with the sauce.