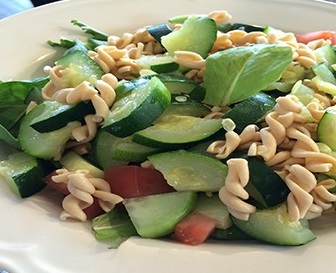 Ingredients:
2 cups of zucchini chopped
Ideal Protein Rotini
Mixed Greens
1 slice of tomato chopped
1/4 cup of chopped cucumber
Approved dressing of choice
Directions:
Fill pan with water and bring to boil
Add rotini and chopped zucchini to water and season with sea salt and garlic or any other seasonings you like! Boil for approx 6-8 minutes until desired texture.
Use collander to remove water and set aside to cool.
After pasta and veggies are cooled toss with mixed greens, cucumber and tomato. Top with your favorite approved dressing!