I had to adapt this recipe to make it phase 1 compliant so it is not the original recipe she did on her show, but super Yummy!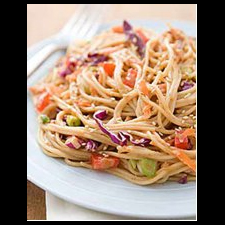 Ingredients:
1 or 2 7oz. bags of Miracle Noodle (the less noodles you use, the more the sauce is distributed, and the more flavorful the noodles are)
1/4 cup Kikkoman Soy Sauce
1/4 rounded cup WF peanut spread , softened in microwave 15 seconds on high
2 tbsp cider or rice vinegar
1 tsp dark sesame oil
2 tbsp Hot Chili sauce
2 cups shredded chinese cabbage and kohlrabi
1 cup bean sprouts
4 scallions, chopped
1 tsp sesame seeds
Directions:
Open bag of Miracle Noodles into a colander and rinse with cold water for a couple of minutes and boil for one minute, pat dry with a paper towel or small hand towel. Cut noodles with scissors to make smaller pieces. In the bottom of a large bowl, whisk together soy, peanut butter, vinegar, sesame oil, and hot sauce. Add noodles and veggies and toss to combine the noodles and coat them evenly with sauce.
Sprinkle scallions and sesame seeds throughout the salad and serve. Or you can heat the sauce for a couple of minutes in a sauce pan, then add noodles and serve hot!