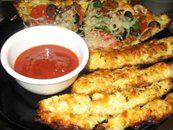 Ingredients:
Crust:
1 Egg
1/4 C Egg Whites
1/2C Cooked Riced Cauliflower
Pinch of Garlic powder
Pinch of Onion powder
Pinch of Oregano
Pinch of Cayenne pepper
Pinch of Sea Salt
Pinch of Pepper
Toppings
1/4 C No Carb Marinara or Alfredo Sauce
1 oz Low fat/soy mozzarella
2.5 oz Chicken
1/4 c Mushroom
1/8 c Onion
Directions:
Put skillet on stovetop and heat on medium. Add 1/2 tsp oil. Whisk together egg & egg whites until frothy. Add seasonings of choice into egg mixture, cauliflower & pour into heated pan. Cover and let cook for approx 3.5 minutes. Flip out on to plate, return to skillet and cover to cook other side for approx 1.5 minutes.
Flip out on to pizza pan, add toppings of choice, put under broiler until cheese is melted & toppings are cooked - approx 5 minutes. Make this as pizza or as a pizza bread with sauce on the side for dipping.