Sloppy Joes are an American creation that is believed to have come about in the 1950's when a cook decided to add tomato sauce to a loose meat sandwich. Depending on where you live in the "states" you may know this recipe by one of its other names: barbecues, dynamites, gulash, sloppy janes, slushburgers, steamers, wimpies and yum yums.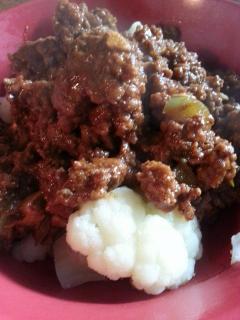 Ingredients:
2 lbs ground beef (you can also use ground turkey, chicken or even finely diced tofu for a vegetarian twist)
1 large green bell pepper, diced
1/2 c green onion, diced (white part only)
5 cloves garlic, minced
1 1/2 cups Walden Farms ketchup or no sugar added tomato sauce
3 tablespoons Walden Farms Pancake Syrup
2-3 tablespoons chili powder, or more as needed
1 tablespoon dry mustard
1-2 tablespoons red pepper flakes, or more as needed
3 tablespoons Worcestershire sauce
Hot sauce, such as Tabasco or Franks (to taste)
Salt and freshly ground black pepper (to taste)
Directions:
Start by browning the ground beef in a large pot over medium-high heat. Drain off the fat.
Add in the green peppers, green onions and garlic. Stir it around to combine, and then add the rest of the ingredients. Stir to combine, and then cover and simmer over medium-low heat, about 20 minutes (or until green peppers are soft).
Notes:
You can kick-it up a notch by adding a diced jalapeno pepper or make it "smoky" by adding a dash of liquid smoke.