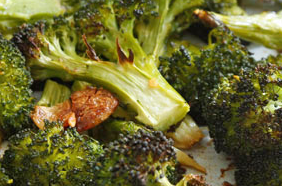 Ingredients:
6 cups broccoli florets (large bunch)
1 sweet red pepper, cut in chunks
2 cloves garlic, minced
2 tbsp olive oil
1/2 tsp sea salt
1/4 tsp pepper
pinch of cayenne pepper
Directions:
In a large bowl, toss broccoli, red pepper, garlic, oil, salt, pepper and cayenne pepper.
Spread on foil lined baking sheet. Roast in 450 degree oven until broccoli is tender crisp. 10-
15 min. Add sea salt if needed. Eat with grilled chicken, steak or fish.