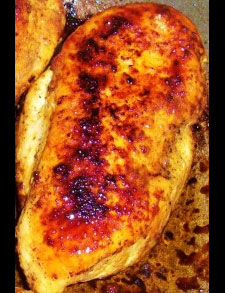 Ingredients:
1 1/2 teaspoon salt
1/2 teaspoon pepper
1/2 teaspoon paprika
1/2 teaspoon garlic powder
1/2 teaspoon onion powder
1 1/2 lbs boneless chicken breast
Directions:
Mix all the spices in a bowl
Heat oil over medium-high heat
While the oil heats up, rub all of the spice mixture all over the chicken breasts.
Carefully add the chicken to the hot oil. Cook 2-3 min per side, or until each side gets a nice brown color.
Bake in a 350 degree oven for 25 minutes or until juices run clear. Let the chicken rest for about 5-10 minutes before cutting, shredding, or eating.