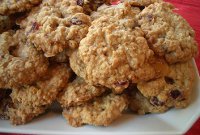 Ingredients:
1 Ideal Protein oatmeal packet
1 Ideal Protein butterscotch or chocolate pudding packet
1/8 cup rolled oats
1/4 teaspoon sea salt
1 teaspoon Splenda or Stevia
a sprinkle of cinnamon, to taste
1 egg white
1 teaspoon baking powder
1 teaspoon vanilla
just enough water to get a cookie dough texture
Directions:
Combine all of the dry ingredients, then add the last 3 liquid ingredients to reach a cookie dough texture. Spray cookie sheet lightly with Pam olive oil spray and place cookies on sheet. Bake at 325 degrees Fahrenheit for 5-10 minutes or until desired degree of moisture. Test centre of cookie with toothpick to see if they are baked.