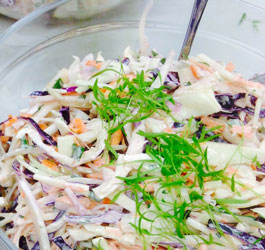 Ingredients:
12 ounces cabbage (mix of green and red for color)
4 ounces bean sprouts
1 small red onion, thinly sliced, 2 1/2 ounces
1/2 cup sugar free sweet or dill pickles, coarsely chopped
Salt and pepper, to taste
Dressing:
1/4 cup yellow mustard
2 tablespoons vinegar
3 tablespoons granular Splenda or equivalent liquid Splenda
3 tablespoons grapeseed or olive oil
Directions:
In a large salad bowl, combine the mustard, vinegar, Splenda and oil. Add the cabbage, sprouts, onion and pickles; toss then season with salt and pepper. Chill well before serving.