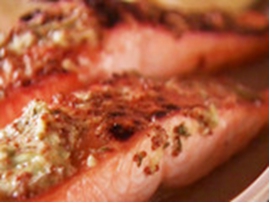 Ingredients:
4 1-in.-thick salmon steaks (about 7 oz each)
1/4 cup each Splenda brown sugar and Dijon mustard
Directions:
1. Heat oven to 425º F. Line a rimmed baking sheet with nonstick foil. Place salmon steaks on top.
2. Whisk brown sugar and mustard in small bowl until blended. Evenly divide on top of each salmon steak, spreading to cover.
3. Bake 15 minutes or until cooked through. Broil, 4 in. from top, 2 minutes or until top is golden.