This meal makes 2 healthy servings and gives the feeling of a real cheat although is totally IP friendly. Feel free to add hot sauce or more spice mix to the meat mixture if you like things a bit hotter/spicier.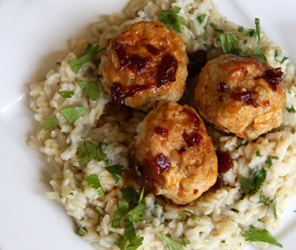 Ingredients:
1tsp olive oil
1 lb lean ground beef
1 Tbsp spice mix
1 Tbsp low sodium soy sauce
1/2 tsp hot mustard
1/8 tsp flour
1/2 red pepper chopped
1/2 lb sliced mushrooms
1/2 cauliflower
Directions:
Mix ground beef, spice mix, soya sce together, using teaspoon, form into 24 meatballs. Place in non-stick pan with olive oil on medium heat. Cover and cook for 5 minutes. Uncover, turn meatballs over, add peppers and mushrooms, cover and cook for another 5 minutes. While cooking meat and veggies, place grated 1/2 cauliflower in microwave safe bowl and cook on high for 5 minutes. Remove meatballs and veggies from pan, add hot mustard and flour let sauce thicken place cauliflower rice on plate, add meatballs either on the side or on the cauliflower rice along with veggies and sauce in the pan. Enjoy!