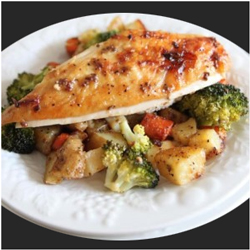 Ingredients:
1 whole chicken, 6-7 pounds
1 tsp salt
1/2 tsp pepper
2 Tbsp Walden Farms Pancake Syrup
1 Tbsp Dijon mustard
1 Tbsp whole grain mustard
1/2 tsp salt
1/4 tsp pepper
1 pound turnip , peeled & diced
3 carrots, sliced (PHASE 4 ONLY)
2 Tbsp olive oil
2-3 cups broccoli, chopped
Directions:
Preheat your oven to 375 degrees.
Pat the chicken with paper towels or a dish towel and sprinkle with the salt and pepper.
Roast in the oven at 375 degrees for 30-40 minutes until the skin is beginning to turn a light golden color.
In a small bowl, mix the Walden Farms Pancake Syrup, mustards, salt, and pepper. Brush this mixture over the entire chicken, leaving 1-2 Tbsp of the mustard mix for the vegetables.
Put the coated chicken back in the oven and roast for another 30-40 minutes or until the juices run clear if you pierce the thighs.
Take the chicken out of the oven and let it rest while you cook the vegetables.
Toss the diced turnips and carrots together with the olive oil and roast at 375 in a baking dish for 20-30 minutes.
Once the vegetables have begun to soften, add the chopped broccoli and stir all the veggies together with the last few spoonfuls of the mustard mixture. Roast for another 15 minutes.
Cut the chicken into pieces and place on top of the vegetable mixture.
Put back into the oven for 10-15 minutes until the veggies are tender and the chicken is hot.