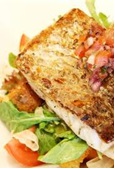 Ingredients:
1/4 cup fresh lime juice (2 to 3 limes)
2 tbsp grape seed oil
1 clove garlic, finely chopped
1 tbsp soy sauce
1 tsp grated fresh ginger root, optional
1 tsp IP friendly Dijon-style mustard
1/4 tsp salt
1/4 tsp freshly ground black pepper
6 haddock steaks (about 1-inch thick)
Directions:
Preheat grill. In a small bowl, whisk together the lime juice, olive oil, garlic, soy sauce, optional ginger root, mustard, salt, and pepper. Brush the haddock steak with about one-third of the dressing and reserve the rest. Place haddock steaks on the grill, and grill until the steaks are golden on the outside and done to taste or the inside, about 3-5 minutes per side. Drizzle with the reserved lime mixture. Serve immediately, great for the whole family.
Serves 6.