Roasted Asparagus makes a great side dish for this!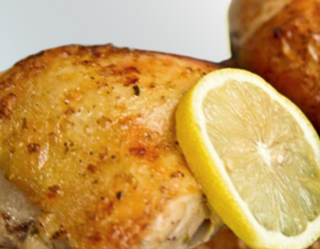 Ingredients:
2 tbsp of lemon zest
1/3 cup of freshly squeezed lemon juice
2 cloves of garlic (Crushed)
2 tsp of fresh thyme leaves
1 tsp. of fresh minced rosemary leaves
1 tsp. table salt
1 tsp. black pepper
2 to 4 lbs. of chicken thighs or legs
Directions:
Combine the lemon zest, juice, garlic, thyme, rosemary, salt and pepper in a large zipper-lock bag and shake well. If anyone is home be sure to repeat that old line "It's shake and bake and I helped" in the most annoying English voice you can muster. Put the chicken pieces in the bag with the marinade, pressing out excess air and sealing once more then let it marinate in the fridge for 2 to 3 hours.
Preheat the oven to 425˚ F.
Place the chicken into a baking/casserole dish skin-side up and save the extra marinade for when the dish is 1/2 way baked.
Bake for 50-55 minutes or until the skins are crispy and well-browned but halfway through baking, pour the extra marinade over the chicken for extra seasoning.