(Sushi made with cauliflower)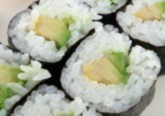 Ingredients:
2 cups of cauliflower
2 tsp Rice Vinegar
1 package Truvia or other sweetener
1 Pinch Sea Salt
1 tsp olive oil
Soy Sauce (sugar-free)
Chopped cucumber
Chopped red pepper
Iceberg lettuce
Nori Sheets
Directions:
Shred cauliflower to the size of rice grains.
Mix vinegar, sweetener, oil and sea salt.
Heat together in microwave, try and get the mixture dry and sticky.
Place in Nori and add cucumbers, lettuce, and red pepper as desired.