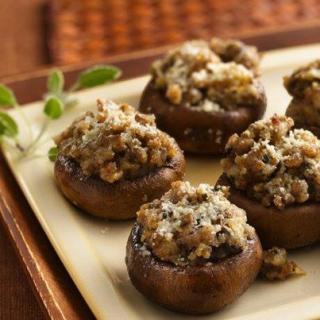 Ingredients:
1/2 lb of julienned ham
1/2 packet of IP Salt and Vinegar Ridges crushed
4 Lg Portabello caps
3 cups of portobello mushrooms chopped
1 cup cucumber chopped
1 cup radish
1 Tbsp green onions chopped
1 clove of garlic minced
2 Tbsp of Walden Farms Balsamic Vinaigrette dressing
1 tsp Olive Oil
S& P to taste
Directions:
Marinate the 4 large mushroom caps with olive oil and garlic. Chop the remaining mushrooms. Slowly cook green onions in olive oil marinade from mushrooms. Add chopped mushrooms to pan and cook until all water is evaporated. Add chopped garlic and cook for 1 minute. Add dressing with ham, mix well.