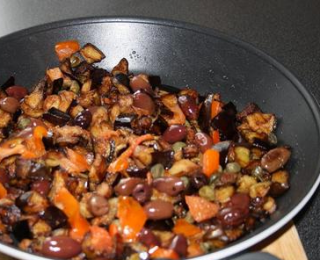 Ingredients:
2 tsp sea salt
1 lbs eggplant, cut into ½ inch cubes
1 14.5 oz can diced tomatoes, undrained
2 Tbsp white vinegar
1 Tbsp capers, drained
¾ tsp dried basil
¼ tsp sea salt
1/8 tsp pepper
1 Tbsp olive oil
1 cup chopped onion
½ c chopped celery,
1 garlic clove, minced
Directions:
Sprinkle 2 tsp salt over eggplant; stir well. Place eggplant in colander, and let stand 1 hour.
Rinse well; drain. Combine tomato & next 6 ingredients in a medium bowl; stir well & set
aside. Heat 1-1/2 tsp olive oil in a large nonstick skillet over medium-high heat. Add eggplant,
and cook, stirring occasionally, 13 minutes or until tender. Transfer to a plate. Add 1-1/2 tsp
olive oil to pan, and place over medium heat. Add onion & celery; cook, stirring occasionally, 4
minutes or until lightly browned. Add garlic; cook 1 minute. Add cooked eggplant and tomato
mixture to pan; stir well. Cook 3 minutes or until thoroughly heated. Serve at room
temperature. Tastes great in a salad, as a relish, or as a dip with celery sticks!