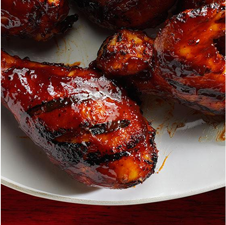 Ingredients:
6 boneless skinless chicken breasts
3 tbsp Dijon or Creole mustard
2 packets of Splenda or Stevia
1 tsp Paul Prudhome's Blackened Steak Magic
¼ tsp poultry seasoning
1 tsp olive or grape seed oil
¼ tsp natural sea salt
½ tsp Louisiana Brand hot sauce
Zipper seal large 1 gal. Bag
Directions:
Place all of the spice ingredients into the zipper seal disposable bag and mix with your hands
by massaging the outside of the zipper seal bag. Add your chicken and massage the spice
mix into and all over the chicken breasts and let sit in the bag. Fire up the BBQ and get it
good and hot so that chicken will be seared when it is placed on the grill. Sear the first side
and when you turn it to sear the second side cut your heat down and cook slow until just done
(no pink). (It works in the oven too). The chicken will be tender and juicy.