If you are looking to put that leftover roast beef to good use, here is a quick and easy recipe for delicious homemade beef soup that is only 85 calories per serving.
This recipe Makes 14 servings (cups) and each cup is 85 calories.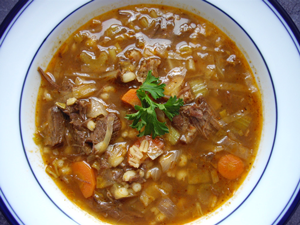 Ingredients:
1 Orange Bell Pepper Chopped
1 Cup Onion Chopped
1 1/2 Cups of Carrot Chopped
1 Cup Celery Chopped
3 Cups Cabbage Shredded
1/2 Cup Barley
2 1/2 Cups Leftover Roast Beef Cubed
2 Boxes Beef Stock (I use Campbells)
Directions:
Toss all veggies in a large pot and cook down for 10 minutes or until onions are translucent.
Pour in beef stock, roast beef, and barley, then stir thoroughly.
Let simmer for 45 minutes to 1 hour or until barley is fully cooked.