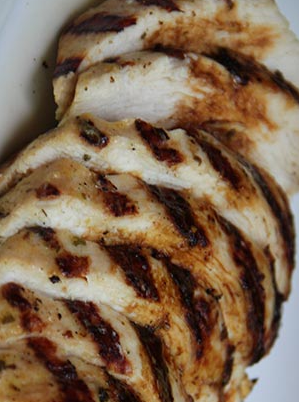 Ingredients:
1 ½ lbs chicken breast
8 fennel bulbs
3 cloves garlic minced
2 tsp orange peel grated
1 tsp. thyme chopped fine
1 tsp. rosemary chopped fine
½ cup Walden Farms Orange Spread chopped
1 tbsp. Worcestershire sauce
2 tbsp. olive oil
3 tbsp. cider vinegar
1 tsp. sea salt
½ tsp. pepper
Directions:
In a small bowl, mix garlic, grated orange peel, salt, thyme, rosemary and pepper. Make an incision in each chicken breast.
Combine orange spread, Worcestershire sauce and vinegar.
Place chicken on hot and oiled grill, approximately 8" from heat. Cook turning and basting with orange mixture every 5 minutes for approximately 30 minutes or until chicken is cooked.
Quarter fennel bulbs. Blanch in salted, boiling water. Grill while basting.