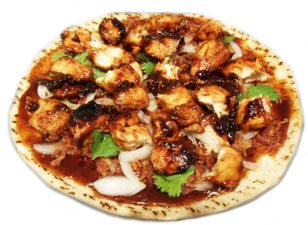 Ingredients:
Sauce:
2 TBS Calorie Wise BBQ Sauce
2 TBS Tomato Paste
1-4 TBS Franks Hot Sauce
1 Glove of Garlic, minced
Crust:
1 Dempster's WholeGrains Pita Pocket
Cheese:
1/2 c Kraft Part Skim Mozzarella Cheese
Chicken
1 Chicken Breast, grilled and diced
Veggies
Dice and use as many veggies as you can fit on your pizza such as
green pepper, red pepper, red onion, pineapple, hot banana peppers and
avocado.
Directions:
Pre-Heat oven at 375 degrees F. Add your sauce to the pita, spreading it
evenly. Add a thin layer of cheese. Add all of your veggies. Top with
another thin layer of cheese. Bake in the oven for 15-20 mins or until the
pita is crispy and your cheese is melted.