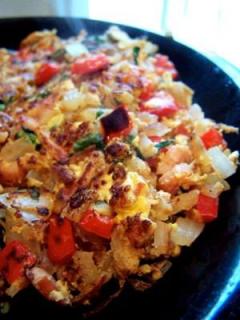 Ingredients:
Non-stick cooking spray
1 cup shredded zucchini
1-2 slices of sweet onion chopped (Phase 4 only)
1 slice of Lean Canadian bacon cubed
1/2 of a red bell pepper chopped
2 handfuls of baby spinach leaves chopped
2 eggs plus 2 egg whites beaten
Directions:
Heat a small non-stick skillet over medium heat. Spray with cooking spray and add the shredded zucchini. Leave them alone while you chop all the other ingredients for at least 5 minutes before you flip. This will defrost and start to brown the zucchini.
Once the onion and bacon bits are added continue to cook over medium heat until the onion softens. Add the Canadian bacon and bell pepper. Cook for a few minutes allowing the flavors to merge.
Add the chopped spinach and stir in. As soon as it starts to wilt, pour in the beaten eggs. Immediately start to combine and mix in the egg. After the egg coats everything in the pan, use your spatula to press the hash down. It will create a nice brown on the bottom and "stick" the hash together a bit. Leave it alone for a minute.