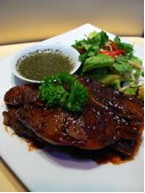 Ingredients:
Steak:
1.5 lb steak
5 tbsp chili powder
1.5 tsp dried oregano
1.5 tsp cumin
1.5 tsp salt
.5 tsp black pepper
Olive oil
Salsa:
1/2 cup fresh cilantro
1 Tbsp pickled jalapeno
1 Tbsp apple cider vinegar
3 Tbsp olive oil
Directions:
Steak:
Mix the chilli powder, oregano, cumin, salt, and pepper. Rub mixture on the steak. Pour about 2 Tbsp olive oil over the steak and rub it in. Let sit for 10 minutes. Grill to your desired doneness, let rest for 5 minutes
Salsa:
Place all ingredients in a food processor and blend until mixed. Serve with grilled steak, grilled asparagus and a garden salad.