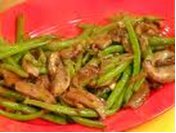 Ingredients:
1/2 ounce dried shiitake mushrooms, about 10-11 small mushrooms
1 cup boiling water
1 tablespoon soy sauce
1 teaspoon granular Splenda or equivalent liquid Splenda
1 teaspoon coconut oil
1 teaspoon fresh ginger & garlic, grated
1 pound fresh green beans, ends trimmed
Salt and pepper, to taste
Directions:
Put the mushrooms in a bowl; add 1 cup boiling water. Cover the bowl with plastic wrap and let stand 5 minutes. Remove the mushrooms and reserve the liquid. When the mushrooms have cooled, remove the tough stems and dice the caps. Strain the liquid through a cheesecloth or paper towel lined strainer. Add the soy sauce and Splenda (I have used the WF pancake syrup) to the liquid and set aside.
In a large skillet or wok, heat the oil over medium-high heat add ginger and garlic cook 20-30 seconds. Add the beans, mushrooms and drained liquid. Stir to combine then cover and reduced the heat to low. Simmer, stirring occasionally, 15-20 minutes. Turn the heat up to high very briefly to evaporate the liquid in the bottom of the pan. Season with salt and pepper.