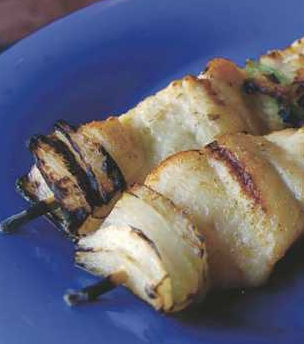 Ingredients:
1-16 oz Pacific halibut fillet, cut into 1-inch pieces
3 cloves garlic, minced
2 tsp olive oil
pinch sea salt
dash black pepper
Directions:
Combine garlic & olive oil in a bowl. Place halibut in the bowl and combine. Marinate for 10 minutes, stirring occasionally.
Preheat a broiler, coat a broiler pan with cooking spray & arrange pan about 4 inches from heating element. Thread halibut onto skewers (if using wood skewers, soak in water for 10 minutes before using) and sprinkle with sea salt & pepper. Arrange halibut skewers on broiler pan and cook for about 8 minutes, turning halfway through, until barely opaque.
Serve on a bed of spinach, or your favorite greens.
(serves 2)