Perfect for lazy weekend mornings. No, its not EXACTLY like the carb & calorie heavy original, but this recipe is dang close, delicious and a lifesaver for those missing comfort breakfast foods. Surprisingly good. The cinnamon & sweetener transform the zucchini into an unexpected treat which emulates the taste and texture of the real thing.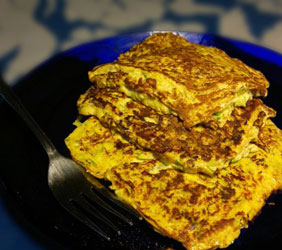 Ingredients:
2 beaten egg whites
1 Ideal Protein Omlette (Plain) Package
1-2 teaspoons cinnamon
1-2 cups shredded zucchini
Sweetener (like Splenda) to taste (1 - 2 teaspoons / 1 small package coffee sweetener)
Optional Add one or more of the following: 1 teasp Vanilla Extract, Vanilla seeds (from pod), Rum extract, pinch of cardamom
Directions:
1. Beat 2 egg whites with a pinch of salt until stiff. (You can add a pinch of cream of tartar as well to aid thickening. Not required)
2. Add in 1 package of Ideal Protein plain omelette mix until well blended.
3. Add 1-2 cups shredded zucchini. (I mash it down with a paper towel a few times to drain excess water.)
4. Add cinnamon and sweetener to taste.
5. Add any optional spices as desired (I use vanilla seeds from a pod, cardamom, & a splash of Rum extract)
6. On Med-High heat, Spray a pan with Cooking Spray (like PAM) and drop about 1/3 cup of the batter onto the pan. (Most pans fit 2 servings at a time.) Spread it out so that it is even. I use a spatula to keep the edges more square shaped to give it more of a French Toast look.
7. Wait until the mix is fully cooked on one side before flipping or it will fall apart. (but watch not to burn!). Flip and cook.
8. I spray each serving with "I Can't Believe Its Not Butter" and eat as is. For those with Ideal Protein or Walden Farms 0/0/0 Maple Syrup, add that.