Delicious Grilled Veggie and Steak Kebabs, great for all phases of Ideal Protein. Perfect appetizer for 2, we love to barbeque them to make the beef even more tender and tasty. Phase 1 compliant and all other phases of the Ideal Protein diet.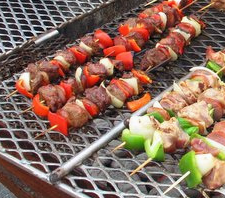 Ingredients:
1 small zucchini, cut into 1⁄4″-thick rounds
1⁄2 cup cherry tomatoes, cut into quarters, plus 8 whole cherry tomatoes
2 teaspoons extra-virgin olive oil
1⁄2 teaspoon minced garlic
Salt
Freshly ground black pepper
8 ounces beef sirloin, cut into 6 (1″) cubes
2 teaspoons chopped fresh basil
Directions:
1. Soak two bamboo skewers in water for 10 to 15 minutes.
2. Set aside 6 zucchini rounds. Cut the remaining zucchini rounds into quarters and toss with the quartered cherry tomatoes, 1 teaspoon of the oil, and the garlic. Season with salt and pepper. Set aside.
3. Preheat a nonstick grill pan over medium heat. Thread 1 skewer with 1 whole tomato, 1 zucchini round, and 1 beef cube. Repeat two more times, ending with a tomato. Thread the remaining tomatoes, zucchini rounds, and beef cubes onto the other skewer. Drizzle the skewers with the remaining 1 teaspoon oil, turning to coat both sides. Season with salt and pepper.
4. Place the kebabs in the center of the grill pan and cook for 6 minutes.
5. Add the reserved vegetables to one side of the grill pan and flip the kebabs. Cook the kebabs for 5 to 6 minutes for medium, turning on all sides to ensure they are fully cooked, and cook the vegetables, stirring, until softened. Stir the basil in with the vegetables. Transfer the kebabs and vegetables to a serving plate.