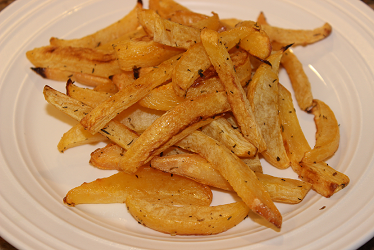 Ingredients:
1 large Rutabaga, peeled and cut into wedges or french fry sticks
2 egg whites
2 tsp dried onion powder
1 tsp dried garlic powder
sea salt and cracked pepper to taste
Walden Farms Ketchup
Directions:
Preheat oven to 425° F
Place two egg whites in bowl, and whisk briskly, add onion powder & garlic powder and whisk again. Pour contents into large plastic zip lock bag.
Placed peeled and sliced rutabaga into bag toss together until the fries are thoroughly coated with seasonings.
Spread fries on a non stick baking sheet
Place in oven for approx 25-30 minutes, turn fries on baking sheet after about 12 minutes continue to cook until golden brown.
Remove from the oven and serve immediately.