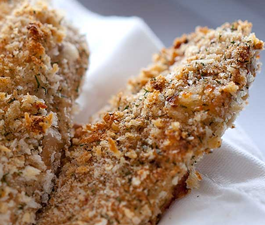 Ingredients:
6 oz chicken tenderloins ( or breast sliced into strips that's what I did above)
1 beaten egg
1 IP packet of crushed Unrestricted Garlic Chips
S+P to taste
Directions:
Preheat oven to 375. Line cookie sheet or jelly roll pan with foil. Coat chicken in egg. Then, roll chicken in crushed garlic chips. Place chicken on foil-lined pan. Cook for 15-18 minutes. Last minute, select "broil" this seals the chips to be extra crispy and golden brown! Remove from oven, and enjoy.