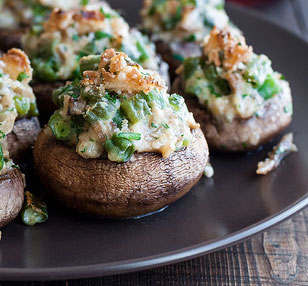 Ingredients:
1/4 cup minced scallions
2 tsp EVOO
4 oz drained canned crabmeat, cartilage removed
2 tblsp minced fresh parsley
1 tblsp drained white horseradish
2 cloves garlic, minced (pressed)
2 drops hot red pepper sauce
2 1/4 cup small mushrooms, stems removed* (24)
Ground red pepper to garnish
Directions:
Combine scallions and oil. Soften scallions in a pan 1-2 minutes; stir in crabmeat, parsley, horseradish, garlic and pepper sauce. Stir well. Place half the mushrooms, stemmed sides up, in a 9" pie plate. Fill each mushroom cap with crab mixture. Microwave on High 3-4 minutes, turning plate once. Remove mushrooms to serving plate; repeat with remaining mushrooms and filling. Let stand 2-3 minutes before serving. To garnish, sprinkle with ground red pepper. I like to add cook red peppers, WF mayo, salt & pepper to taste and I prefer to bake in over rather than microwave, enjoy!!!!