Cooked Cabbage and Apples made in the slow cooker, wth spicy mustard, chicken stock, and apple juice for flavor. This recipe is not necessarily Ideal Protein friendly, but still a great alternative to high carb casseroles.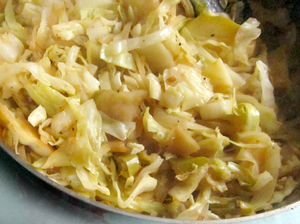 Ingredients:
2 diced apples (Granny Smith or Pink Ladies)
1 medium-sized cabbage, coarsely chopped
1 large onion, quartered and sliced
1/2 teaspoon of salt
1/8 teaspoon of freshly ground pepper
1/2 cup of chicken stock
1 cup of apple juice
3 tablespoons of spicy mustard
Directions:
1. Add the onions, apples, and cabbage.
2. Add the salt and pepper and mix together.
3. In a large measuring cup, mix the chicken broth, apple juice, and mustard until it is all combined.
4. Pour the liquid mixture over the ingredients in the crockpot.
5. Cover and cook on low for six to eight hours or until everything is tender, stirring every two or three hours.
6. Use a slotted spoon to remove the finished dish to a serving bowl or to individual plates.